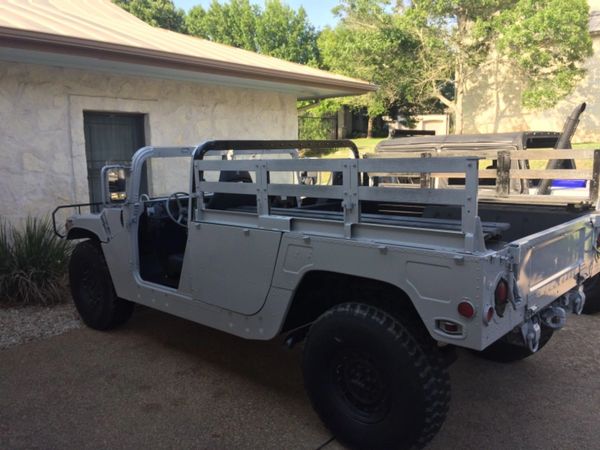 2018 Raffle
Our 2018 Raffle will feature a HMMWV M998 open 2 man truck
Only 60 Tickets being sold to benefit The SEAL Legacy Foundation
Drawing when 60th ticket is sold or on Oct 15, 2018
*PLEASE BE ADVISED
By purchasing a raffle ticket, you agree to be bound by these rules.
An set amount of raffle tickets will be sold. The purchase price for one raffle ticket is $500.00. Raffle tickets are not tax deductible. All raffle entry purchases are final and non-refundable.
Tickets may be purchased with cash,check, or by credit card via mail, in person or online. If an entrant's check is returned unpaid by the bank, that entry ticket(s) will be considered invalid unless a cash payment is received by Warrior National by 7:00 p.m. Central Time, Monday, October 15, 2018, the official raffle deadline. Entrant will also be subject to all associated bank fees for a returned check.
Entrants must be a legal resident of the state of Texas.  Entrant will retain the raffle ticket receipt. The receipt will be entered into the drawing and will be retained by TWNF.
The winner of the raffle will be determined by random drawing. The drawing will take place on October 15th, 2018 at approximately 8:30 p.m. Central Time in Austin, TX. Winner need not be present to win. Winner will be announced at the event and on the Warrior National Foundation's website.
The winner agrees to comply with all IRS regulations regarding raffle winnings. Winner agrees to furnish TWNF with his/her social security number, verify his/her identity, and sign all required IRS documents (IRS Form 1099) before claiming the prize.
The winner of the raffle is entitled to a HMMWV M998. The winner of the raffle must claim the prize within 14 days of the drawing. If the winner does not claim the prize within 14 days of the drawing by responding to telephonic or written notice from TWNF or otherwise, the prize will be forfeited.
Winner will assume and be responsible for all fees, and local, state, and federal taxes, including but not limited to all applicable sales, use, luxury, income, and special taxes associated with winning a raffle. The Warrior National Foundation (TWNF) specifically disclaims all expressed or implied warranties, including without limitations warranties of merchantability. TWNF is not responsible for any losses or injuries suffered as a result of the HMMWV.
After the prize is claimed, the winner must abide by any restrictions placed on voucher by TWNF.
Purchasers of tickets, by participating in the raffle, release TWNF, its directors, officers, members and agents from any liability, loss or claim arising out of any raffle prize, expressly waive any such claim and agree that the liability, if any of TWNF, its directors, officers, members, and agents shall be limited to the raffle ticket price paid.  TWNF makes no express or implied warranty as to the Raffle prize.
Any disputes, claims, and controversies concerning this raffle shall be submitted to and resolved by binding arbitration, to be conducted under arbitration rules in the state of Texas.
The prize is not redeemable for cash.
The raffle is void where prohibited.